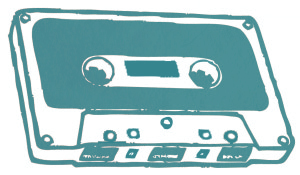 I could have been a doctor
helping the sick
I could have been a lawyer
but you know that ain't my stick
Coz I'd feel so bad
if a patient didn't do well
and I'd feel just as bad
to leave a client in jail
and that is why (that is why)
that's why I chose (that's why I chose)
I chose to sing the blues

-Ray Charles, Jimmy Holiday 
One bored teenage summer, Tim Bascom and I wrote a couple songs about where we lived, a hundred miles east of L.A. I still remember the opening to "Sick in the Sun," sort of a Jimmy Buffett meets Lou Reed number: Someone had a developer's dream / Those dreams that rich men call fun /  Me, I go crazy in my only lazy way / Watching channel 5 / while the record business junkies / drive out to kick /  and get sick in the sun. In 1985, I met Bone Cootes on Haight St. in his busking phase. We wrote like demons for ten years. During that time, in 1990, Chuck Prophet saw Bone's band, The Living Wrecks, at the Albion. From Balinese Dancer forward, Chuck and I have co-written more material than I can remember. Co-writes appear on all his albums. (Some have been covered – including "Hungry Town" by the immortal Jim Dickinson – and been on tv and the big screen.) Starting in mid-2010, we wrote Temple Beautiful, then much of Night Surfer. Also, we continue to develop Temple Beautiful into a full-length musical. Somewhere along the line, with Urs Leonhardt Steiner, I also wrote the libretto for Return of the Phantoms. And, when I've been extra-lucky, the inordinately talented Stephanie Finch has written songs with me.
As of Spring 2016, Chuck and I are eating lunches at Tu Lan during long days South of Market finishing up songs for his next one.
UPDATE: Between those lunches we co-wrote much of Bobby Fuller Died for Your Sins, released in February 2017. This summer saw us on a roll that continues into the fall. Twenty-five new songs and counting . . .